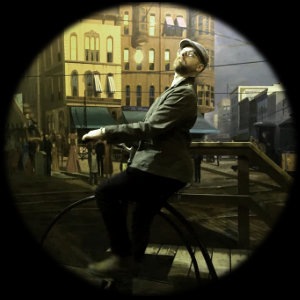 What is there to say about Jason Strutz? That he is an artist behind multiple comics such as The House of Montresor graphic novel from Action Lab Entertainment, The Deadly Ten series from Full Moon Comix, or the Good Fight Anthology? NO. That he is an illustrator of Role Playing Game ™ monsters and heroes for companies like 2CGaming, Checkmate Studios, and more? CERTAINLY NOT. That he works in graphic design for various companies and individuals. NO WAY. That he is writing his first graphic novel starring the undead, the knight, and the corpse priest? NEVER. Jason Strutz is a man. Just a man.
COMICS
Full Moon Comix – Deadly Ten – Cover artist on The Grim Rapper, The Hourglass, and two for Shadowheart Curse
Full Moon Comix – Deadly Ten – interior artist
Full Moon Features Bunker of Blood Movie Series – Motion Comics artist
Full Moon Comix – Dollman Kills the Full Moon Universe – Castle Freak Cover, Killjoy Cover, Trancers Cover, Finale Cover
Full Moon Comix – Dollman Kills the Full Moon Universe – Castle Freak 6 page segment
The Good Fight – Finding My Voice Segment
Red Stylo Media – Caged in Flesh: A Jekyll and Hyde Anthology – Cain's Heresy segment
Jason Ferguson Productions – Gerald R. Ford Ad storyboard comic
24 Hour Comics – Four time finisher currently running event at The Comic Signal Grand Rapids, MI Dimensional Hangouts • The Mystery Hole • Vale • The Road to Hellsville
Frankenjiras Rex – Character Design
Action Lab – The House of Montresor – graphic novel artist
Frankenstein Crash – Parts one and two artist
Lost Story Studios – Deathcurse 1 & 2 artist
Action Lab – Pirate Princess issue 10 – artist
Action Lab – The Order of Dagonet – Six issue series
Firetower Studios – Pizzula – artist and book design
Red Stylo Media – Shakespeare Shaken – All our yesterdays segment
Silber Media – Astronaut Jane
Red Stylo Media – Poe Twisted – Full page illustrations
ROLE PLAYING GAME ART
2CGaming – Regular contributor providing a variety of illustration
Checkmate Studios – Illustration and graphic design to complete Avarice, a card game
Brotherhood – Character design
End Transmission Games – regular artist contributor (until 2017)
GRAPHIC DESIGN
Maxxout – Always Going Over Record cover painting and design. Social media icons.
Insight DCS – Logo design and staff graphic designer
The Edgar Allan Poe House and Museum Baltimore – Branding, graphic design, and illustration for events and The Poe Fest International
Frankenjiras Rex – Logo design
Frankongor – Logo design
Frankenstein's Giant – Logo design
Resistance Con – Logo and graphic deisgn
Woosh Data – Logo and regular graphic design
OGO Toys – Logo design
Spinwhiz Comics – Icon design
Oak City Comicon – Logos and graphic design
NC Comicon – Logo and event graphic design
NC Comicon the Movie – Poster illustration and design